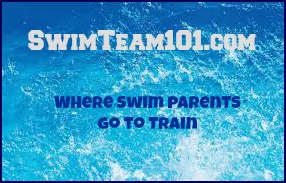 My name is Becky.  I am a former 8th grade Science teacher who is now a stay at home mother of 7 children, including boy & girl twins born in 1996, a son born in 2003, another in 2005, yet another son in 2010, a daughter in 2012, and a another little boy to round out the lot in 2013. (Yeah I know we're a little crazy, what can I say we like kids, and our life is never boring.)  The 6 oldest kids have been competitive swimmers in some capacity or another.  The twins have been competitively swimming since they were 5.  We've done Rec swimming,  USA swimming, a YMCA teams, and the twins swam on their High School team.  My oldest daughter is now retired, while her twin brother has gone on to compete at the collegiate level. Both twins now coach swimming as well.   So needless to say we are around pools a lot!  Although I've never swam competitively myself, I was a high school and college athlete in other sports, and have been a swim mom since 2001.  My oldest two sons are very passionate about swimming, and have provided me the opportunity to attend a lot of different types of meets over the years so I have a plethora of experiences, stories, and advice that I am eager to share with you.


style="display:inline-block;width:320px;height:100px"
data-ad-client="ca-pub-7275499282356566″
data-ad-slot="3143248732″>

What qualifies Becky as some Swim team guru?
In addition occupying ourselves by taking kids to practices and meets my husband and I have been heavily involved with the running of some of our kids' teams for many years.  We've either held or helped with just about every booster board position there is, we help run meets, run team websites, budget programs, etc…  Of the many jobs I've done my very favorite is being our team's "New Parent Liaison".  Since my husband is the booster club president, I tend to know just about everything that goes on with our team.  For years I saw new parents struggle to figure out what was going on.  Often more experienced parents would get irritated with the newbies, not remembering what it was like to be completely clueless because you're new to the sport. So I started writing weekly emails to the Rookies of the team explaining how things work, reminding them of swim meet and team etiquette,  and just generally being there to answer questions most new people had but might not know who to ask.  I got great feedback on my emails from new parents, coaches, and even several long time swim parents.   Who knew simply explaining how to read a heat sheet, or what to bring to a meet, or how to interact with coaches, or why it is rude to stand on the railing in front of the bleachers when everyone else is trying to see their kids swim too, could actually calm new parents down and reduce everyone's stress levels.  Soon I had parents and coaches asking me if there was anyway I could send my emails out to all the new parents in the league.  I was of course flattered, but didn't think much of it. But the longer I wrote my emails, the more people pointed out that someone really ought to make this info available to everyone.  Especially when they'd run into rude or uninformed parents . Then my husband came up with the idea of this blog.  After a year of the hubby working to convince me that people might actually read it and find it useful, I've decided to give it a try.
Plus, just between you and me, I found a couple of other mom blogs attempting to do the same thing and read them only to find they were giving out WAY wrong info…and people were reading it…one even had a company sponsoring their site!  For example, one person tried to  explain why they put the fastest swimmers in the middle lanes of a pool by  saying they do it in order to give that "flying V effect"…ummm really not at all the reason they do that!   So, now I'm going to give this blog thing a go.

Purpose:
My intent is to cover the basics of what you need to know to be an awesome swim parent.  I'd also like to eventually share ideas and open discussion with some of the more advanced parents where we can  talk about on how to run meets, various aspects of running teams teams, etc…
What about that flying V thing?
By the way, if you are wondering the real reason they put the top seed (fastest swimmers) in the middle lanes is because there is an advantage to being in those lanes.  You can see the other swimmers more clearly, especially those seeded closest to your time, and the middle lanes have calmer water because they are farthest from the walls, so in theory they are a bit faster. The "flying V effect" is little more than an aesthetically pleasing side effect.
Anyway please sit back and read some posts and always feel free to ask questions and share your thoughts in comments.