This post is dedicated to my husband who recently acted as meet director for his 16th major meet and is already knee deep in planning the next one.  This is also dedicated to my friends from other teams who have taken on this noble role. If you are not familiar with what a meet director does, this is the person who is basically in charge of an invitational or championship style swim meet.  They play a major role in organizing the meet, on meet day they are in charge of making sure everything runs smoothly, and if any problems come up they are ultimately responsible for finding the answer to the dilemma.  Volunteer wrangler, chief security officer, technology guru,  coach's therapist, customer service rep, you name it, the Meet Director can handle it.  Think of them as the Swiss Army Knives of swim meets.
Despite all the glamour, the job is not without pitfalls.  Below are 11 people that most meet directors secretly despise.
 The Conspiracy Theorist
This guy is convinced that the host team is out to get him/his team/ his swimmer because of some imagined rivalry between teams.  In his mind the meet director sits on his director's throne twirling his mustache maniacally laughing as his minions of officials, timers, and scorers act out devious plots to mess with unsuspecting swimmers.  Of course in reality the meet director is actually just hanging out in the hospitality room hoping everyone one will just leave him alone.
The Technology Gnome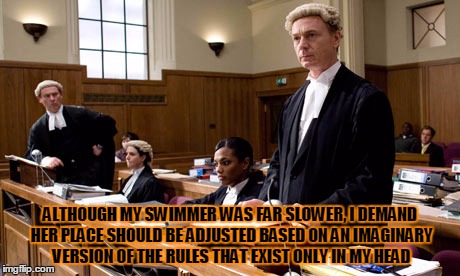 This guy is always looking for a technicality to try to get their swimmer a higher place than they earned.  If the rules don't fit his narrative, don't worry he'll make some up on the fly.  Sorry buddy, you're not Johnnie Chochran and your swimmer's not OJ, go sit yourself down and tell 'em to swim faster next time.
So, to the meet directors, administrators, and others who run meets and have to deal with this dastardly lot of misfits, I salute you!
Want to learn how to make sure to stay on the Meet Director's good side and act reasonably at a big meet? Read How to Prepare for your First Invitational Swim Meet.
Follow me on Twitter @Swim_Team_101
Like us on Facebook